Thursday, February 22, 2018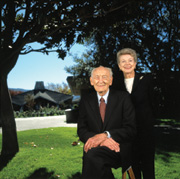 In 1946, Bill and Leila Cilker bought their first apricot and prune orchard on Blossom Hill Road Los Gatos from one of Bill's uncles. In the years since, they've seen a lot of changes in the Valley of Heart's Delight.
Their second prune orchard was in Santa Clara and until recently was occupied by the Kaiser Hospital. Another orchard was developed into the Good Samaritan Hospital and the adjacent Samaritan Medical Center.
The family has developed some of their agricultural properties. They produce olives and walnuts in the Central Valley and lovingly produce small batches of handcrafted olive oil.
In 1998, Bill and Leila decided to use a portion of one of the properties they had developed to create a philanthropic legacy.
"Mrs. Cilker and I had been involved in feeding the hungry through the Second Harvest Food Bank. This was followed by providing housing for the low-wage earners," Bill said. "We started to expand our philanthropy. After investigating, we decided it would be expensive and time consuming to set up a private foundation and hire our own staff. Creating our own foundation within the community foundation offered many advantages."
The Cilkers donated a share of their ownership in the Samaritan Medical Center to the Silicon Valley Community Foundation to create the Cilker Family Foundation. Income from the center goes into the family foundation, and the Cilkers work together as a family to find worthy grantees.
Bill added, "This has made it possible for our four children, their spouses and our grandchildren to share in the thrill of giving grants to many organizations."