Thursday, February 22, 2018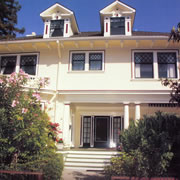 Nancy Scammell: Professional Advisor Unlocks a Legacy
Nancy Ross Scammell's family legacy is one steeped in military history and a love of books. Nancy's great grandfather designed the USS Olympia and, after settling in San Mateo, was the founding trustee for the San Mateo Public Library. Her father was active in the U.S. Army as a clandestine agent who posed as a historical librarian. His cover became a personal and family passion, helping him amass a definitive collection of World War II and U.S. Army history books.
Nancy desired to honor the importance of her family's library and historic Edwardian home in San Mateo. Enter William W. Penaluna, an established estate attorney and an advisory committee member of Peninsula Community Foundation, one of Silicon Valley Community Foundation's parent organizations. As a trusted friend, neighbor and admirer of the Scammell family's rich history, he helped turn Nancy's dream into a perpetual benefit by working with the Real Estate Trust at Silicon Valley Community Foundation.
William knew the Real Estate Trust would honor his clients' wishes, making sure to fulfill the vision she shared before her death. When Nancy died in 2007, she left the extensive Scammell collection, including numerous books, letters and photographs to the San Mateo Public Library and Historical Society and her historic home and estate to the Real Estate Trust. Soon after, the Nancy Scammell Community Endowment Fund was established at the community foundation, benefitting education in San Mateo and Santa Clara counties.
The Real Estate Trust recognizes professional advisors like William Penaluna as unsung heroes. Professional advisors play a critical role in helping individuals and families unlock their philanthropic potential. In property, many have a valuable asset that can be transformed into a lasting legacy.