Thursday, February 22, 2018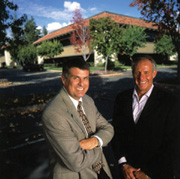 The Sobratos: Donated Buildings Build Community
John A. Sobrato, founder of Sobrato Development Companies, has always had two passions in life: building structures and building community.
The Sobrato family's philanthropic philosophy is straightforward: the family builds community by investing in people and places. They provide local nonprofits with the working capital the agencies need for ongoing programs or building and refurbishing structures.
As the family's philanthropy grew, John determined that the buildings the family business had built could be turned to community. He first donated an office building to the community foundation to create a field of interest fund to support the creation of affordable housing. "As a developer in Silicon Valley I have a unique perspective on the need for affordable housing in the community," he said.
Later property donations have fueled the creation of the Sobrato Family Foundation, a supporting organization at Silicon Valley Community Foundation. More recently, he donated an office complex in Milpitas. The office park provides rent-free space for local nonprofits.
"Working with the Real Estate Trust at Silicon Valley Community Foundation has allowed my family to increase our impact on the community," Sobrato said. "The Real Estate Trust makes it easy and cost-effective to donate property to help the community."